Welcome to the website of our kennel. As you have already guessed, our site is dedicated to the aristocrat of the dog world, her beautiful majesty the Russian borzoi.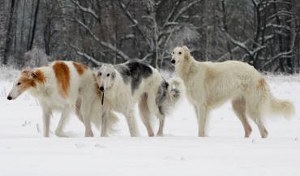 How do you start talking about a kennel? Of course you could go the usual way, listing all our champions and tormenting the reader with the terms a newbie wouldn't always understand, but I don't think it right – or very interesting. You can find all this information on our site anyway. Every dog born in our house has its own page where you can see its exhibition and field achievements. So I think I'll try to base the introduction of our kennel on debunking some myths about the breed and, of course, talking about the first appearance of the borzoi in our home.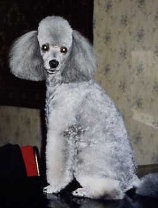 Before the Russian borzoi we kept silver poodles (toy and miniature). This is a lively, sociable and merry breed, very convenient as a family pet. Of course at the shows I have often looked at the beautiful borzois, but, like a lot of people, was informed by myths about this breed. I could not even imagine that it could be kept in a city apartment. And if a borzoi hadn't appeared in our house by chance, I would have never known such happiness at my side…
But if a borzoi once appeared in your house at least for a day, I assure you that you will never be parted from that breed! And you will always look for a chance to keep a borzoi, whatever it costs you!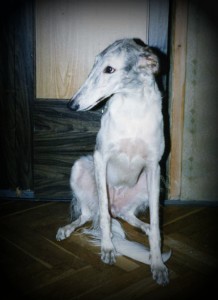 My first borzoi appeared in my house in the spring of 1995. I found her in the street in a very bad condition. Thin, beaten, with all four legs lame and a horrible vitamin deficiency. But we could not pass her by…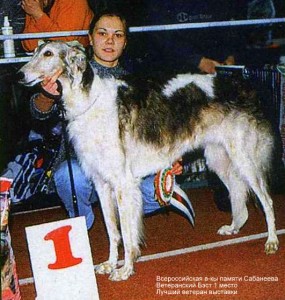 And so there's a borzoi in our life. At first we tried to look for her owners, met a lot of breed enthusiasts, went to all the breed events, called to various clubs hoping to find the owners sooner or later. But everything was in vain. Even though the world of borzois isn't that big, no one knew anything about our girl.
Time passed, we got registered in a club, started visiting shows with our new pet, going to field trials and races, that is, living a proper borzoi life. Our foundling dog turned out to be a female of a very good pedigree.
In a very short time Sleyra (this was the unofficial name of my very first dog) managed to debunk a lot of myths about the breed. Of course I can't remember everything now, but I'll try to list the most popular ones.
MYTH No. 1. The borzoi needs to run a lot, preferably all day long!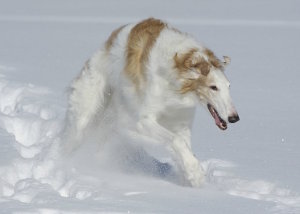 This makes me want to ask: "Can you run all day?" No? Well, no one can! The borzoi is not a robot! It was bred for short-range hunting, being a sprinter among the borzois. Of course it needs to be kept fairly active. If the dog lives in the city, it needs to be walked three times a day, with one of the walks being an hour- or two-hour-one. Remember that an hour's fast walk is more useful than ten minutes' run. Try to go to the countryside sometimes. It's also good to have a spot near your house where you can safely let the dog run free. In districts with no forest parks a dog-walking spot will do. But many breeds require the same conditions for walks, and some need even more serious exercise.
MYTH No. 2. The borzoi is a very big dog. It is certain to take up a lot of space, have doggy smell and shed a lot of hair.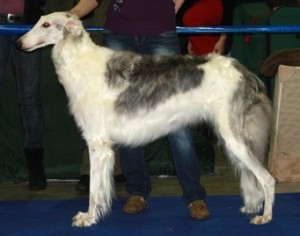 It may seem strange, but the borzoi doesn't have a doggy smell. Its fur cleans very easily and is simple to groom. Since the Russian borzoi is a longhaired breed, it needs frequent combing, which will help the state of the skin and fur of the animal. During the shedding period it's better to do it every day. Regular combing and washing when necessary will help you to avoid hairs in your flat, and the dog will always lo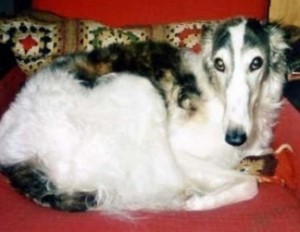 ok great. 
Despite its size, the borzoi doesn't take up a lot of space in the flat. Set aside an armchair or a sofa for the dog and you won't even notice it's there. Inside the house a grown borzoi is very quiet.
MYTH 3. The borzoi can't even be kept in the city! It's a hunting dog. In the city it will get lost, get broken or hit by a car.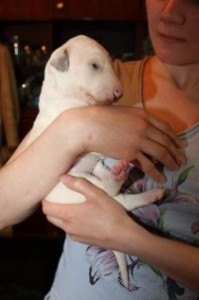 Any badly trained and badly socialized dog can't be kept in the city! It will hurt itself and others, and it doesn't just concern the borzois!
Training a dog from the puppy age, responsible attitude towards the dog and respect for people around you will help you to get an obedient and well-balanced animal able to live both in the countryside and in a huge city. Of course the borzoi is a born hunter and you cannot forget it! But in the modern world you can certainly replace the hunt with coursing and dog races.
These are some of the reasons why people are afraid to keep those dogs at home.
In 1997 we had our first litter. The borzoi owners say jokingly that if one borzoi appears at your house, it will soon bring another one. This happened to me too. From this first litter we kept two puppies, a male and a female.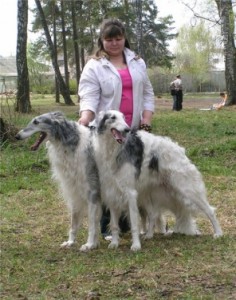 In 1998 I graduated from the cynology school and registered a club, and then a kennel. I had good luck to meet many well-known borzoi specialists, including the breeder, expert and a person very knowledgeable about the breed, the owner of the Borzoi Romanovs kennel Inna Estrina. My dogs are from the lines of this well-known kennel. Inna Yulievna always said that the borzoi should combine the beauty and the working quality. You can't separate the breed into show dogs and hunters. This is the rule we try to follow in our kennel.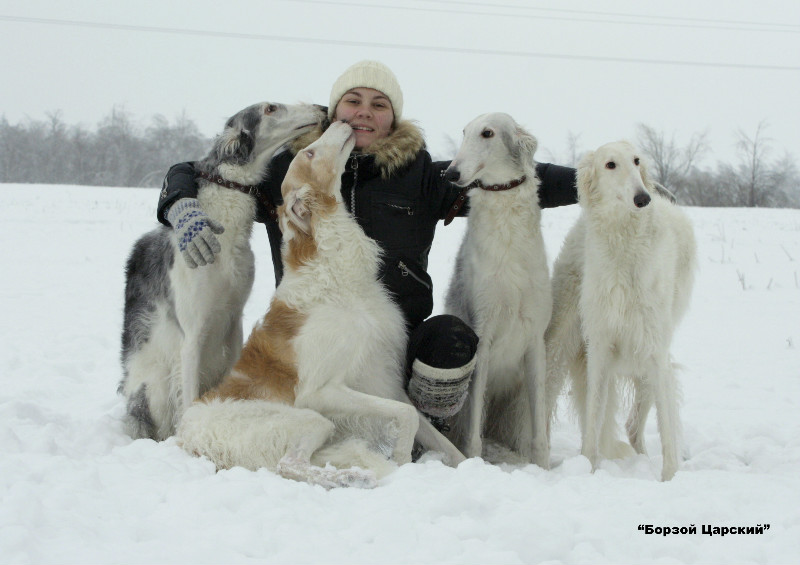 Best regards Tatiana Myltseva.